Toronto Nichiren Buddhist
Church
Spring Newsletter 2013
平成25年・春号ニュースレター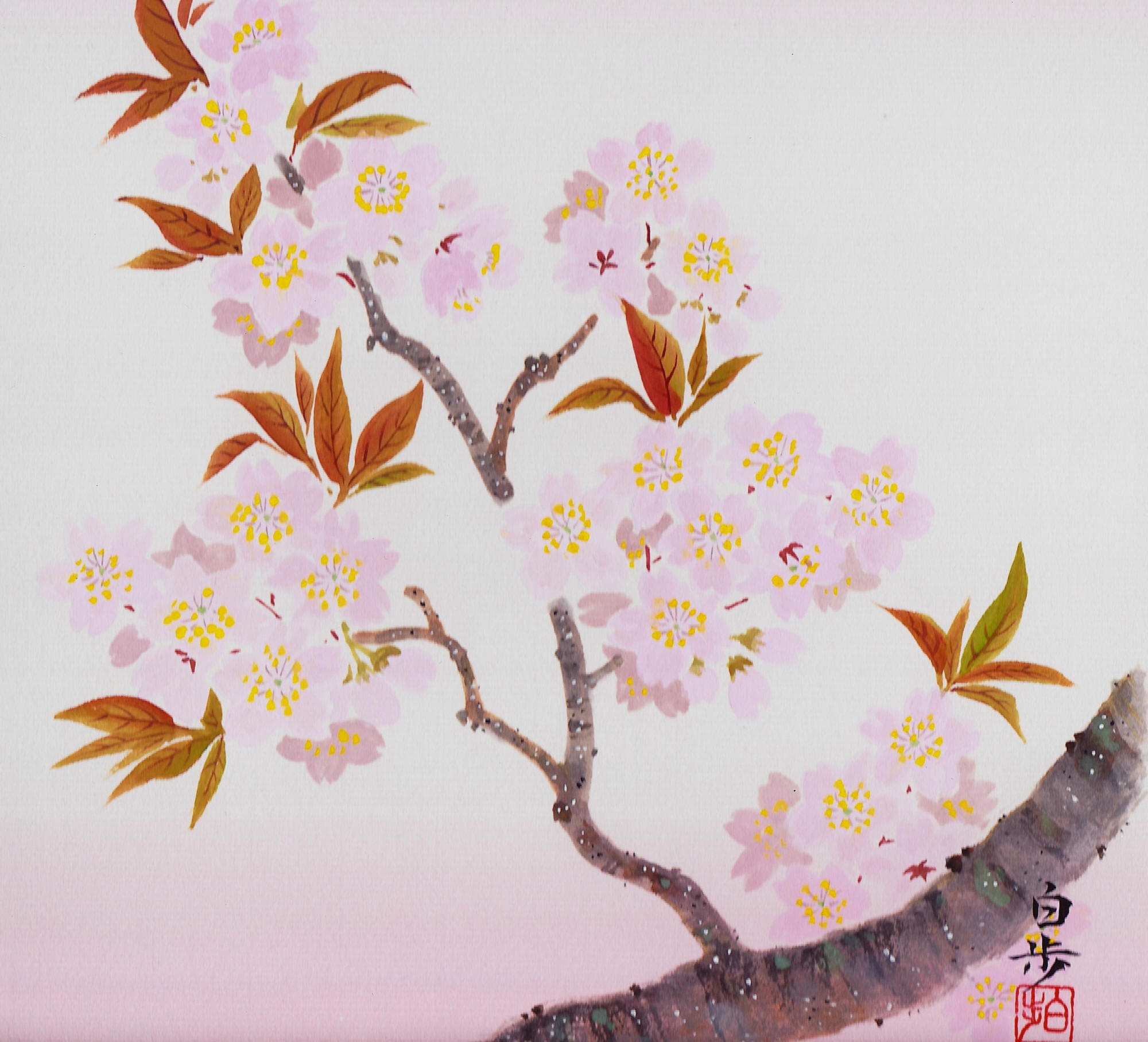 Email: toronto.nichirenshu@gmail.com
※Please note that our email address has changed ※
※メールアドレスを変更しました ※
Cold and snowy weather had continued throughout the beginning of April, but the long-awaited spring is finally approaching! Spring brings a refreshing feeling to both my inner and outer sides. It is also the time of the year when flowers bloom and conveys a sense of youthfulness. As it gets warmer outside, it also allows us to take a walk in the park, or be under the sun that gives us energy.
Within our lives, there are certain things that we cannot prevent from occurring, such as natural disasters. In Buddhism, it is said that there are four inevitables in human life: birth, aging, sickness, and death. Life does not always work out the way we want it to be. We tend to worry about life after death, and I still do not know if heaven or hell exists. However, I believe it is best to worry about my afterlife once I reach the other world.
Nichiren Shonin has explained that both hell and heaven is within us. Either in this world or another, wherever there is suffering, that place becomes hell to those who suffer; and wherever there is pleasure, that place becomes heaven to those who enjoy their life. Depending on the way we think or feel, we can create hell or heaven in the world we live in. It is difficult to change the world on our own, but with the support from others, we are capable of making the world we live in a better place.
Nichiren Shonin has taught us the teachings of the Buddha, and that we can cleanse the world and endure sufferings by chanting "Namu Myo Ho Ren Ge Kyo." We shall practice and abide by this precept and apply it in our daily lives.
With Gassho, Hiroshi Yamamoto
- - - - - - - - - - - - - - - - ★☆★ - - - - - - - - - - - - - - - -
4月に入ってからも雪が降り寒い日が続きましたが、北国にもようやく待ちに待った春 が訪れようとしています。この季節は身体と心の両面に新鮮な感覚をもたらしてくれます。草木が芽吹く春の訪れは「もう一度花を咲かせてみたいな」と思わせるような、気分の上で 若返った感覚を与えてくれます。また外出しやすくなり,公園等を散歩して太陽を適度に浴びると身体にも活力が湧いてきそうです。
しかし、暮らしの中でも天地の異変や生老病死は人間にとって避けられない出来事です。寄る年波にも勝てません。やがてやってくる死についても避けることは出来ません。また、世の中では筋道が通らないことや道理に合わない話が日常生活の中でたびたび発生します。矛盾だらけで争いの絶えないこの世に地獄があるのはわかりますが、あの世にも本当に地獄や極楽があるのか未だに私にはわかりません。今のところあの世での心配は先送りにするこ とにします。
日蓮上人は地獄も極楽も私たちの身体のうちにあると説かれています。この世を地獄に するのも極楽にするのも私たちの心がけ次第だといわれているのです。世の中を一人で変え ることは難しいですが、一人一人のこころがけでまわりの環境を少しは良くすることが出来 ると思います。
日蓮上人は『南無妙法蓮華経』と唱題することで私たちにこの世を浄土にすることを生 き甲斐にするように,またどんな苦痛にも耐えていけるようにとお釈迦様から学んだ智恵を 授けてくれました。私たちはこの教えを守り、生活の中で生かしていきたいものです。
合掌 山本博
☆ANNOUNCEMENT☆
◎Spring Garage Sale on Sunday June 9th, 2013
This spring, we will hold a Garage Sale with the purpose of raising funds for repairs to the temple. We are looking for Garage sale items and Volunteers!!!
Please contact Yuki by email: toronto.nichirenshu@gmail.com or leave a message at 416-463-9783
◎Membership Fee for 2013
We thank you for your continuous and generous support. We are accepting membership fees for 2013.
◎Temple membership
$10 per month or $120 per year.
☆お知らせ☆
◎春のガレージセール:6月9日(日曜日)
お寺の修理資金のためのガレージセールを予定しております。
当日お手伝いをして下さるボランティア、寄付品を受け付けております!
ご質問等はメール、もしくは留守番電話にメッセージをお残し下さい。
メール:toronto.nichirenshu@gmail.com / 電話番号: 416-463-9783
◎会費の納入のお願い
2013年の会費納入を受け付けております。
◎会費:月10ドル、又は年会費120ドル
<![if !vml]>
<![endif]>
 Spring O-higan Segaki Service~春の彼岸施餓鬼法要
<![if !vml]>
<![endif]>
New Year's Service ~ お正月会・唱題行
<![if !vml]>
<![endif]>
To be in good health ~ 無病息災
<![if !vml]>
<![endif]>
Buddha Pari Nirvana, Birth of Nichiren, Setsubun-E Services
節分追難会(星祭り)・釈尊涅槃会・日蓮聖人降誕会
Myoran shonin's sermon on Sun. February 10th:
Buddha Parinirvana, The Birth of Nichiren Shonin, and Setsubun-E Services
Gassho
Today we are here to remember the Parinirvana of the Buddha, the Birthday of Nichiren Shonin, and the celebration of Setsubun.
The Buddha's Parinirvana: the meaning of the word parinirvana translated to English means "The final Nirvana which occurs upon someone who has attained complete awakening."
The temple that houses the statue of the Buddha in the town of India is very solemn and beautiful, not elaborate or anything like that, just very simple and beautiful. The image of the Buddha is of him lying on his side with his head resting on his arms and hands. As each visitor walks in, you are given a small piece of gold leaf and this is placed on some part of this statue. I remember how much respect and reverence each person showed at this time.
There are a couple of different theories as to how the Buddha died. Some say tainted meat, or some say a wild mushroom; he was 80 years old at the time. Before the Buddha passed away, he asked Ananda (one of Buddha's disciples) to inform the people of Kushinagar that he would pass away during the night.
The last words that the Buddha spoke were:
"Make yourself the light. Do not rely on others."
"Make my teachings your light."
"Strive for your own liberations with diligence."
"All composite things pass away."
Today let us please remember the suffering the Buddha endured for all of us to benefit from these teachings.
And so we come to a new life! The birth of Nichiren Shonin.
Nichiren Shonin was born on February 16th, 1222, in Kominato, Chiba prefecture. His father was named Shigetada Jiro Nukino and his mother was named Umegiku. Nichiren Shonin's father was a fisherman, and it is said that they lived in poverty and were very humble and religious people.
One night, Umegiku had a strange and beautiful dream. The dream was of a small tiny sun that came to rest on the petals of a pure white lotus blossom. The sun and blossom softly descended to enter her breast. When she awoke, she knew she was pregnant with her fourth child.
At the time of Nichiren Shonin's birth, there were several small miracles that took place even though it was winter, spring suddenly gushed forth in the garden, and white lotus blossoms bloomed in the bay. At this time, Nichiren Shonin was named Zen-Nichi-Maro.
Fortunately for us and the rest of the world, Nichiren Shonin's parents realized their son was gifted and found a way for their son to be educated. Seicho-ji temple situated in the mountains above the tiny village, this is where he would be sent to receive his education and from then on history is written.
Today let us also remember the significance of the Birth of Nichiren Shonin, and the impact of his life had on the spreading of the Buddha's teachings and propagating the true teachings within the Lotus Sutra.
After the Buddha's death, indeed his teachings carried on throughout this universe.
Today we have also celebrated Setsubun and cleansed away all unpleasantness that was accumulated this past year. We will now throw roasted soybeans out the door with the words "Oni wa soto! Fuku wa uchi!" (Devils out! Luck come in!)
Great Compassion of the Buddha "Kanjin Honzon Sho" (Page 87)
[Writings of Nichiren Shonin, Doctrine 2, p.164]
When the sky is blue, the land is bright, so those who know the Lotus Sutra can see the reasons for occurrences in the world. For those who are incapable of understanding the truth of the "3000 existences contained in one thought," Lord Sakyamuni Buddha, with his great compassion, wraps this jewel with the five characters of Myo Ho Ren Ge and Kyo, and hangs it around the neck of the ignorant in the Latter Age of Degeneration.
The four great bodhisattvas will protect such people, just as T'ai-kung-wang and the Duke of Chou assisted the young ruler, King Chen, of the Chou dynasty, or the Four Elders of the Shang-shan attended child Emperor Hui of the Han dynasty in ancient China.
日蓮聖人のお言葉
観心本尊抄 (かんじんほんぞんしょう)にいわく
空に太陽が明るく輝く時、地上の全てのものははっきり見えるように
なる。同様にして人が法華経の教えを知る時、彼はこの世界で生起す
るものごとの意味を理解するであろう。
未法の時代に生きる人々のために、完全なる真理という蓮華を理解す
るにはあまりにも幼稚な人々のために、また「一念三千」という真理
の宝について無知な人々のために、久遠の仏陀は大きな慈しみをもっ
て人々の首に「妙法蓮華経」の五字の宝をかけるであろう。
また使徒である四大菩薩は、中国において大公と周公が年若き支配者
成王を支え、四人の長老が恵帝(中国の第2代皇帝・在位 290〜306)に支え
たように、五字(お題目)を受持する者達を護るであろう。
☆April Service☆
Sunday April 28th, 2013:
The Birth of Buddha,
The Day of Establishment of Nichiren Buddhism Services
The service will be offered by Myoran shonin
※
2:00pm at the Toronto Nichiren Buddhist Temple
☆May Service☆
Sunday May 26th, 2013:
Sunday Service
The service will be offered by Myoran shonin
※
10:30am at the Momiji Health Care Society
(There will be no service at the Temple)
Momijiís address :
(The service will be held in the lounge room on the 9th floor):
Momiji Health Care Society, 3555 Kingston Rd. Scarborough, Ontario.
☆4月の行事予定☆
4月28日(日)・花祭り法要、立教開宗会
妙蘭上人による法要が行われます。
※午後2時:日蓮仏教会法要
☆5月の行事予定☆
5月26日(日)・日曜礼拝
妙蘭上人による法要が行われます。
※午前10時30分:もみじ法要
(お寺での法要はありません)
もみじの住所 (9階のラウンジにて法要が行われます):
Momiji Health Care Society, 3555 Kingston Rd. Scarborough, Ontario.
<![if !vml]>
<![endif]><![if !vml]>
<![endif]>
鬼は外!福は内!〜Devils out! Luck come in!
(節分会法要/Setsubun-E Service)
<![if !vml]>
<![endif]>
ニュースレター編集
山本裕紀
Newsletter edited by:
Yuki Yamamoto